20% of ISO55001-requirements filled at once with our 'award winning' asset management reference model
When an organization is improving continuously, the organization can not avoid to make sure to secure the improvements sooner or later. Securing the improvements can be done via skolls or via the asset management processes. Because there is no asset management education that covers all the required competencies, securing the process is the only option. When an organization wants to be certified according to ISO55001 than this is thus a firm requirement.
Experience has taught us that describing the asset management process is no picnic. To help organizations, we have developed a fully modeled Excel based asset management process model. During implementation we hand over this model to our clients (if agreed).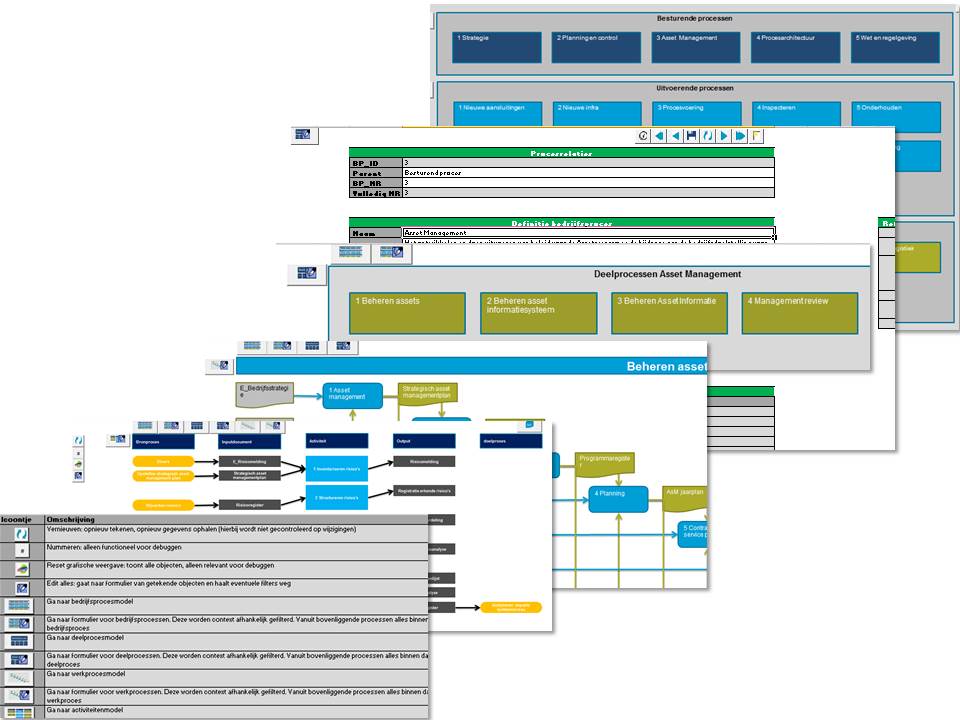 Besides AssetResolutions has established a branch independent "Asset Management" guideline which gives you a tremendous acceleration in the implementation of asset management. It contains, together with our process register, the minimum set of templates that are necessary in order to fully comply with ISO 55001.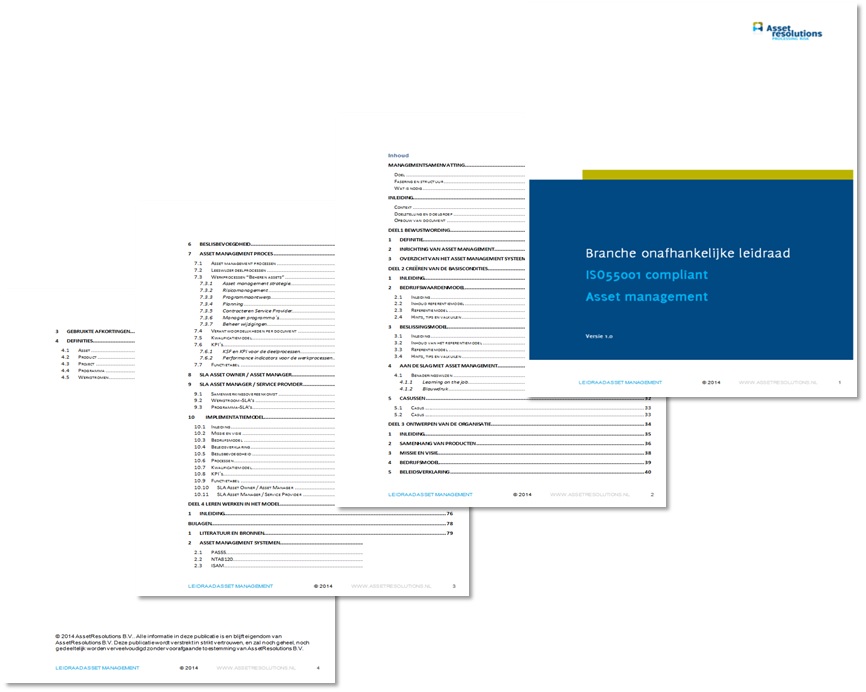 Process register and reference manual benefits
Assure relevant asset management processes (see functionalities ) via a clear hierarchy
Fully filled for the asset management function on basis of Best Practice experiences: saves time and discussion! About 20% of the standard requirements captured at once
Fully matches our ISO55001 quick scan, but can be applied seperately as wel
Seamless integration between process register and the asset management reference model, which contains examples of all defined outputs
Contains the asset management reference process which is described in the article with which we obtained the award 'best article' on the World Congress on Engineering Asset Management (WCEAM) 2014, Pretoria
Link to required asset management competencies, roles, responsibilities, KPI's, documents and tools
The elements from the IAM anatomy are captured in the process register
Specifically developed to meet ISO55001
Proven at our customers
Open data via standard Excel format (process register) and Word (handbook). Content can be maintained by organization itself
Is delivered as part of our regular consultancy services (if agreed)
No annual licence costs
Functionalities process register
Business proces model with overview business processes and how asset management fits in
Sub processes for asset management: manage assets, manage asset information management, manage asset management IT systems, management review, auditing
Working processes e.g. asset management strategy, risk management, program development, planning, manage programs, manage changes
Modelled working processes up to activity level with process- and other documents
Roles and responsibilities captured (RACI: Responsible, Accountable, Consult, Inform) including competence requirements and several competence levels per role
Link possible to documents and tools
Employee form in which assessment results of predefined competencies can be filled out (additional competencies can be added)
Names of processes, activities, links etc can be made fully company specific
Add, delete, change of information possible
Content asset management reference manual
Developed business value model with a proces risk matrix (see our references)
Template with a translation of the asset management roles to your current asset management organizational entities
Decision model (template with e.g. problem exploration, scope, alternatives, selection, implementation and evaluation)
Completed example for mission and vision
Asset management policy statement
SLA between Asset Owner and Asset Manager
SLAs between Asset Manager and Service Provider (generic work agreement, type of work SLAs and program SLA)
Lessons learned.
Questions?
If you want more information, please contact us. See also our question and answer sections on tools.
Award for the paper based on the reference process: