In-company ISO 55000 course
AssetResolutions offers a two-day in-company introduction to ISO 55000, in which the employees of your company can raise specific questions and company specific cases can be dealt with. Because participants already know each other and have the same background, the training is very efficient. The trainer also brings with substantive knowledge, in addition to the facilitation of the process.
The training is intended for employees who want to get to know the ISO 55000 series better, but also for who wants to know more on the backgrounds of asset management. These include for example planners, policy makers, risk managers and project managers.
The introduction distinguishes itself from other courses because besides the standard requirements, also hints and tips are dealt with. Think of how to implement the standard, how does it fit to ISO 31000 (risk management), the pitfalls of ISO 31000 and ISO 55001 and how risks can be categorized (double counting!). As a guide, our best practice asset management process model will be used.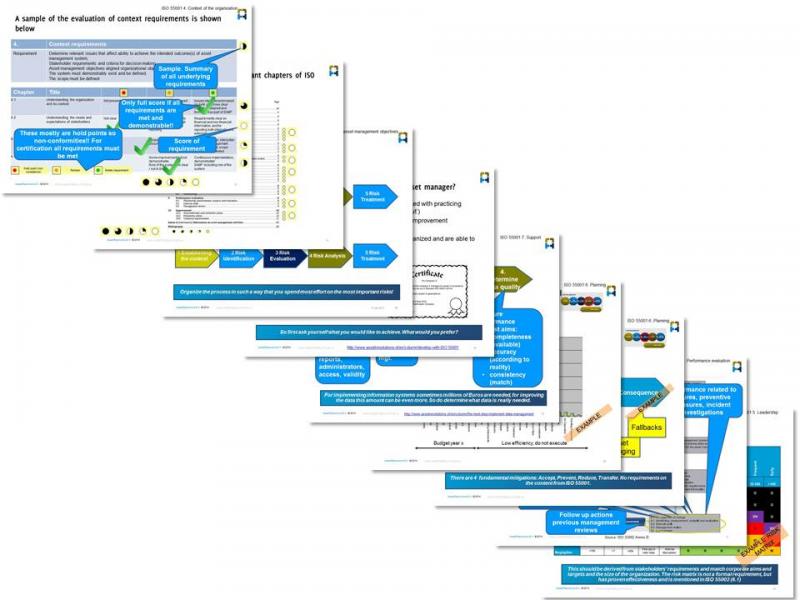 The program of the two-day training is as follows:
Day 1
Who is who, introduction, objectives
Common problems and experiences of participants
Why asset management
What is asset management

Asset
Lifecycle
Risk
Roles
Business Value Model
Process-oriented work
Documentation decisions
Definition

History of the standard
Substantive introduction ISO 55000

Applicability
Structure of the standard and standard sections

Evaluation of day 1
Day 2
During day 2 participants perform a mini audit as part of the training, in which the documentation of your company can be applied.
These courses are taught in groups of between 5 and 16 participants. If you want more information, please contact us.