Long Term Asset Planning. Insight in long term cost, performance and risks with AssetPlanner!
Background
In many asset intensive organizations a major part of the asset base was built in the 60s and 70s. For a lot of asset managers the question is on what the development of the asset base in the long term will be. On the basis of depreciation periods it is possible to get a picture of the required capital when the depreciated assets are replaced. But often the assets are not yet worn out. They will thus be longer used, without knowing what the right replacement time is and what happens when you deviate from this time.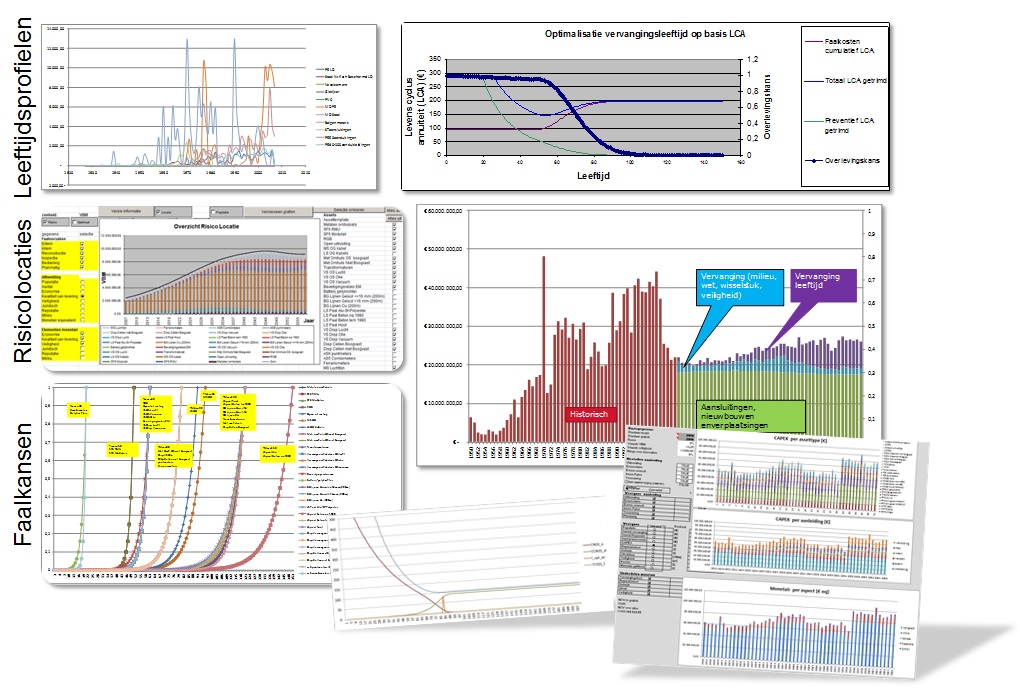 The solution
Our AssetPlanner helps to get a picture on the development of cost, performance and risk for different measures. With the Geo-module, this can also be displayed on a geographical map.
AssetPlanner assists in the preparation of the Long Term Asset Planning, for example as input for the Strategic Asset Management Plan (SAMP). It makes clear what the expected costs over the long term will be in continuing the current policy, to which undesirable incidents which could lead and what the consequences on the business values are. It also becomes clear what the implications are when the budget is lowered and whether mitigation measures are combined or not. Not only in financial terms, but on all business values. This helps top management to determine the strategy in the long term and makes clear for the boundaries. So grip on capital!
Approach: phased and do it yourself
Our experience is that top management becomes for asset management when they see a long-term assessment and conduct some "what if" analysis themselves. To achieve this, often a simple model can suffice. It may however be necessary to achieve a higher accuracy. In our phased approach this is possible: at each stage we take it one step further. In each phase it is determined how close we are to the 'good enough area'.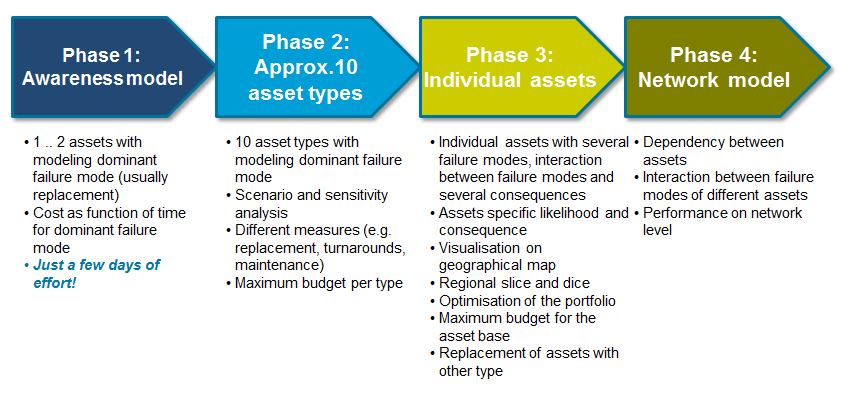 Core of the approach is cooperation with your staff, aimed at transferring knowledge and skills. Users can work with the model themselves during the project and learn from the beginning how the model will be built.
Proven advantages
In phase 1 in just a few days a picture of the future is given: how do performance, cost and risk develop. For top management the impact of the change for the implementation of asset management will become.
Own research (PhD Ype Wijnia, TU Delft) has shown that a systematic optimisation can result in approximately 20% reduction of the total equivalent cost. Long Term Asset Planning is an important tool in achieving this. It offers the possibility on system level to validate the business value model, and adapt it if the performance on the long run does not meet the expectations (for example, in the relationship between costs and risk). This validation is nearly impossible from individual problems.
Long Term Asset Planning is conducted for e.g. District board Brabantse Delta, Vitens, Municipality of Súdwest-Fryslân, Municipality of Bronckhorst, Municipality of Alphen aan den Rijn, Enexis and Infrax.
Unique solution
We hear from our customers that our solution is unique:
Usually the outcome of phase 2 is sufficient! That means a lead time of about only 8 weeks (instead of often a year)
An effort for the own organization that is about 10 times as low
Limited amount of data to be delivered based on types, instead of individual assets
High performance of the AssetPlanner: after "psuhing buttons" resultts within seconds (instead of minutes or even hours)
The phased approach provides an opportunity to stop after each phase when sufficient accuracy is achieved
To be able to calculate the optimal period of a measure, allowing for long-term coordination with other measures
Functionalities
AssetPlanner typically contains the following functionalities (varies per kind of model):
Show cost per year, with several slice and dice possibilities: selection of causes (e.g. internal, external, planned), kind of asset, kind of mitigation measure (for example maintenance only, investment only, repair only) and impact on each business value (as a total, seperately and a combination)
Impact of time on value (net present value) is taken into account; interest can be added
Riskmodel per kind of asset or per asset. Method is based on scientific research (promotion Ype Wijnia, AssetResolutions)
Shift of measures in time and show impact on business values
Automatic optimisation of measures on basis of risk model instead of fixed chosen intervals
Periods for maintenance, turnarounds and replacement can be matched automatically, but can also be applied seperately
Maximum budget possible
Geo module: Export of a KML file, which makes it possible to show per asset on a location which causes and related costs can be expected per kind of mitigation measure. This makes a long matching of work on a location easier, also in conjuntion with other utility asset manager (see below for example on basis of public and fictional data)
What if analysis: Uncertainty analysis and scenarios. Think of a lower budget, growth in the asset base due to e.g. climate change, corrective actions, optimisation without budget constraint, optimisation within budget (when starts spiral of decline), measures on basis of predefined condition. The model calculates its direct consequences on the business values (think of additional hours non availability, impact on reputation, higher remedial costs, more necessary new assets). Also can be shown what the impact is when the valuation of non financial business values is changed
English version available
For an impression of the manual, click here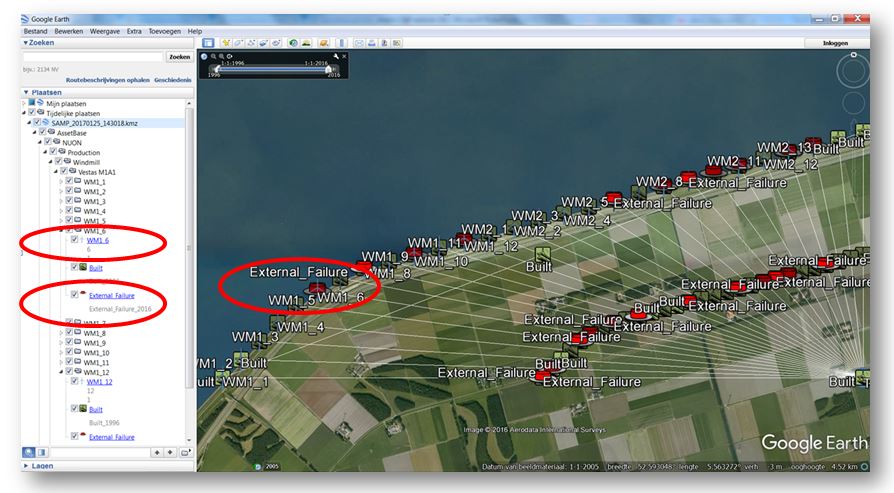 With this KMZ-file, containing partly public and partly fictitious data, you can run the demo above yourself in for example Google Earth (save, extract, open SAMP KMZ file e.g. in Google Earth).
See also the section 'our customers' for references. On youtube screen shots are presented.