Determine optimal portfolio
ISO55001 states that the organization must determine the method and criteria for decision making and setting priorities of activities, people and resources for (the) asset management plan (s) and asset management objectives. Asset Management organizations are limited in the resources they have. This implies choices have to be made within the available budget: mandatory mitigation measures must always be carried out and the remaining budget should be distributed in such a way that a maximum added value for stakeholders is achieved. Our Excel-based PortfolioPlanner helps you in prioritization programs and projects within the available budget.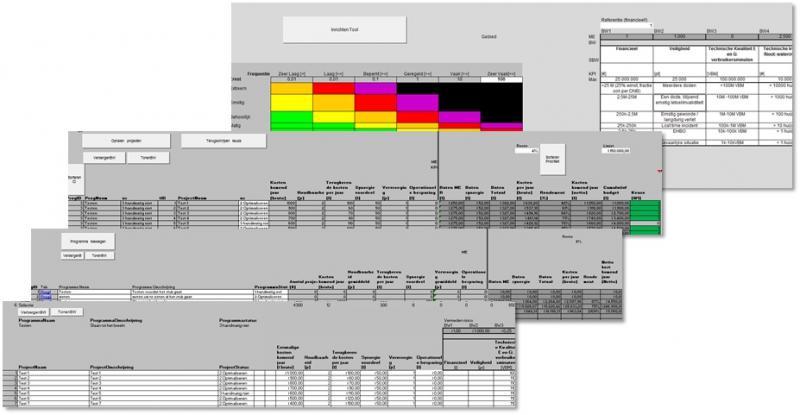 Advantages of PortfolioPlanner
Supports ISO compliant processes (e.g. ISO 31000, 9001 and 14001)
Specifically meets the asset management standards ISO55001, NTA8120 and ISO224
Open data via standard Excel format
Integratable with our Risk Processor suite
Is delivered as part of our regular consultancy services (if agreed). You can also obtain PortfolioPlanner in combination with a risk and asset portfolio management workshop
Defined as output in our process register and asset management reference manual
No annual licence costs
Functionalities
Programs (100) can be defined. All kinds possible (e.g. new assets, replacements, maintenance, modifications)
Per program it can be defined whether the program is compulsary (e.g. due to legal requirements), should not be executed or whether it needs to be calculated via optimization whether it should be part of the portfolio
Maximum budget can be set and be changed, as well as interest rate (can also be 0%)
Per program projects can be defined (100 per program)
On project level it can be defined whether a project is compulsary, it should be optimized or it should not be part of the portfolio
Optimilization op basis of reduction of risk level per business value, one off investment of mitigation measures, annual costs, period of which results of the plan are valid, and synergy effects
Simple list presentation of projects and programs within budget limit including financial data of projects and programs
Risk matrix has same structure as our risk register 'Risk Processor' and it can be copied from Risk Processor into PortfolioPlanner
Questions?
See our question and answer sections. If you want more information, please contact us.