Determine optimal maintenance strategy
Every company is exposed to risks. Risks can affect different business values, such as financial, quality, environment and safety. Companies determine risk mitigating measures for these risks. Maintenance activities are mitigating measures. Three different maintenance strategies are possible: failure dependent (corrective repair when the function is no longer available), usage dependent (after a fixed usage period or time maintenance is executed) and condition based (carry out maintenance when a certain limit is exceeded, where the function is still being fulfilled).
Because resources are scarce, for the determination of the maintenance strategy it is needed to determine which activities have the highest added value. MaintenancePlanner helps in carrying out such an analysis. It calculates the total cost of ownership (TCO) across all business values, so you can easily see which maintenance strategy is most attractive.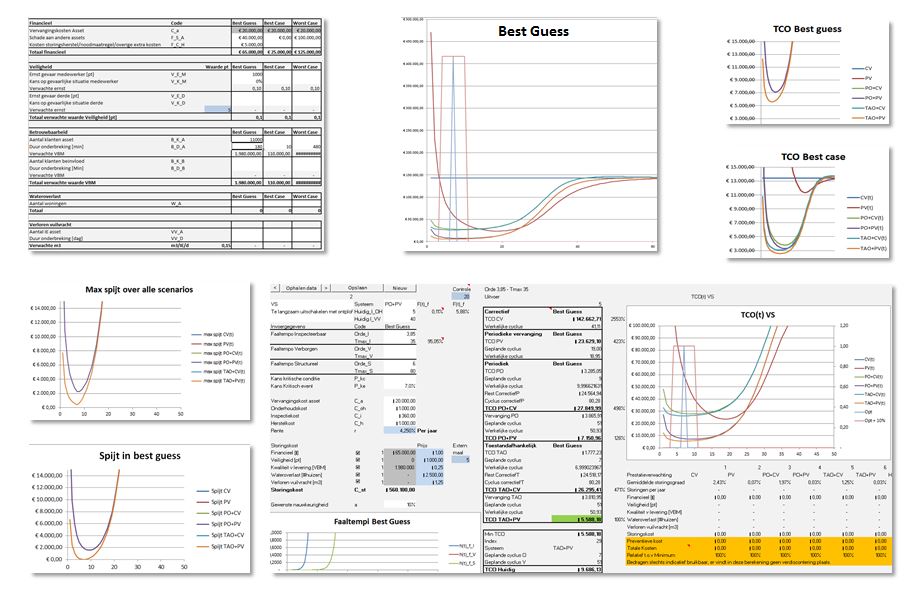 Een impression of the graphs can be shown above.
Benefits of MaintenancePlanner
Supports ISO compliant processes (e.g. ISO 31000, 9001 and 14001)
Specifically meets the asset management standards ISO55001, NTA8120 and ISO224
Open data via standard Excel format
Integratable with our Risk Processor suite
Defined as output in our process register and asset management reference manual
Is delivered as part of our regular consultancy services (if agreed). You can also obtain MaintenancePlanner in combination with a workshop comparable to our risk and asset portfolio management workshop
No annual licence costs
Functionalities
Many input variables including: failure rate for non-inspectable and inspectable failure modes, probabilities for critical condition and critical event, various preventive and corrective of costs, interest rate, monetary equivalent conversion factor by business value
Per value various adverse events. Application calculates these into monetary equivalent cost per year. This for Best guess, Best case, Worst case
Analysis per defined type of asset (asset class)
Different failure rates
Failure models and residual failure models for different maintenance strategies:

Corrective maintenance
Preventive maintenance
Condition-based maintenance
Combination of periodic and corrective
Combination of regular and preventive replacement
Combination of condition-based and corrective
Combination of condition-based and preventive replacement

Calculating Total Cost of Ownership per period for different maintenance strategies
Charts with sensitivity analysis for different strategies
Graphs with regret analysis for the various strategies
Graphs as mentioned above for Best guess, Best case, Worst case. The probability of each scenario can be entered
Questions?
See our question and answer sections. If you want more information, please contact us.